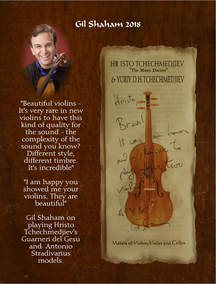 NEW GENERATION INSTRUMENTS
How did the idea come to build a new model violin in the new generation design we call Ricci? The idea was born while watching a video of violinist Ruggiero Ricci performing the 24 Paganini Caprices, often playing high on the fingerboard. This violin is crafted with a design more accommodating to the player's left hand, and offers more bowing room due to a longer C cutout, decreasing player damage to the corners of the instrument. The fact that the lost space has not been compensated for physically, is compensated by the ability to create the bel canto acoustics of the old masters in the instruments.

We would appreciate any opinions or comments you may have about our instruments. Email us: hrtorpheus@jps.net

---

To those who play both violin and viola, we introduce our new design, a five stringed instrument that we call the "Violin-Viola d'Amore."

The size of the neck and the strings are the same as a full sized violin. The length of the body is the same as a 15" (380mm) viola.


This instrument is very comfortable to play and the sound ……well, listen below
and decide for yourself.




Let us know your opinion. We appreciate all comments.



---
The Buckingham Sisters String Quartet play on instruments matched by sound by Hristo Tchechmedjiev, including a New Generation Design Violin made by Hristo and Yuriy D.H. Tchechmedjiev 2012, Carlo Tononi violin 1929, Hristo Tchechmedjiev viola, 1986, Fritz Mueller cello circa 1800's. Filmed on a Panasonic Lumix digital photo camera.





More of our new designs.
A new classical design
with our same Bel Canto
sound.
We are now taking orders
to include the picture
of your choice as a very
fine, thin,beautiful carving
on the surface of the back.
Ask us if you have
questions.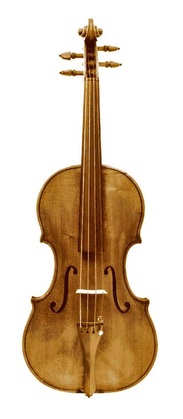 Violin made by Hristo Tchechmedjiev, 1986
Welcome to Orpheus Violin House

Please, make yourself at home and take your time
to join us here in our virtual shop.
We wish you an enjoyable visit.


Orpheus Violin House is a full service shop.
We are accepting individual instrument orders.
Restoration and all repair are available.








---